For Call-in or Pick-up Orders (870) 698-0200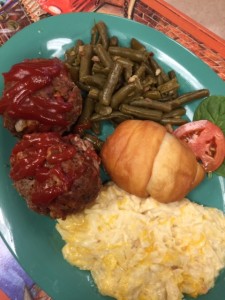 $7.99
Hot Plate Lunch Special (changes daily) – Served with side & dinner roll
Cheesy Chicken Spaghetti – served with home-style green beans & roll
***************************************
Specialty Sandwiches (served with choice of one side):
Meatloaf Sandwich (served on a hoagie bun with our mashed potatoes and special recipe meatloaf)
Open-Faced Pork Pot Roast Sandwich(served on texas toast, mashed potatoes and our pork pot roast thickened in its own gravy…mouth watering!)
Cody's Chicken Club Panini (chicken, bacon, spicy ranch sauce, Colby jack cheese on sourdough)
Drew's Hot & Spicy Panini (turkey, pepper jack cheese, sweet jalapeño relish on sourdough)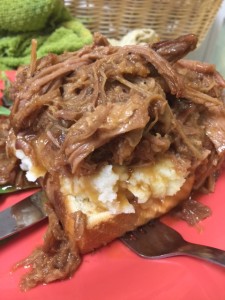 Smokey Panini (chicken, turkey, bacon, jalapeno ranch sauce, pepper jack cheese on sourdough)
Turkey Panini (turkey, tomato, dried basil, creamy Italian sauce, pepper jack cheese on sourdough)
Reuben Panini (corned beef, sauerkraut, thousand island dressing & Swiss cheese on rye)
Veggie Panini (roasted squash, zucchini, peppers, mushrooms & Swiss cheese on sourdough)
Chicken Salad Panini (Natalie's famous chicken salad, cheddar cheese on sourdough)
 The Natalie's Experience:    $7.49
1. Choose from Chicken Salad, Tuna Salad, Cajun Chicken Salad or Pimento Cheese
2. Pick your style: White, Croissant, Wheat, Sourdough Breads or have it with Ritz or Rice Crackers
3. Choose your favorite side item to compliment your meal
$7.49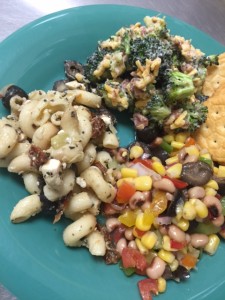 Veggie Deli Plate – Your choice of any 3 of our side items listed below, served with crackers.   Please note that
chicken, tuna and pimento salads are NOT part of the veggie plate options.  Thank you! 🙂
$6.99
BLT Sandwich & choice of side
$5.99
Stuffed Tomato with Chicken Salad or Tuna Salad (Shrimp salad may be substituted for $2 more)
Frito Pie with Cheese (add sour cream or jalapenos .50 each)
Shrimp Entrees: individually priced as shown
Whole Shrimp & Avocado Supreme (our baby shrimp mix on top of shredded lettuce & sliced avocado topped with diced tomato & cucumber, sprinkled with black pepper) comes with choice of side $8.99
1/2 size Shrimp & Avocado Supreme & choice of side  $6.99
Shrimp Salad Po Boy  our shrimp & avocado supreme served sandwich style on a hoagie bun with choice of side  $7.99
**Side Options**
Roasted Veggie Pasta, Tomato Basil Pasta, Old-fashioned Pasta, Cheese Tortellini, Spinach-Artichoke Dip, Crack Corn Dip, Broccoli/Cauliflower/Tomato, Potato Salad, Broccoli Slaw, Asian Slaw,   Shrimp Pasta,  Greek  Pea Salad, Black Bean Salad,  Cornbread Salad, Tomatoes & Cucumbers, Chips, Macaroni & Cheese or our famous Sweet Green Beans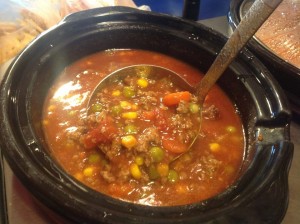 Soup Offerings: served with crackers
Selections change daily –  Bowl – $4.95
                                               Cup – $2.95
Desserts
Daily Desserts by the slice – $3 each (call for daily selection)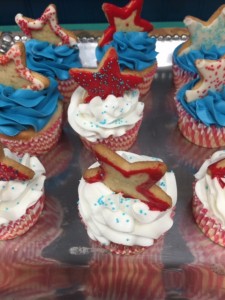 Cupcakes made to order (please order 24 hrs ahead) Dozen – $15 for regular (specialty $1.50 ea)    Mini Size Dozen – $10
Whole Cakes & Pies made to order (Please order 48 hrs ahead and call for pricing)
DELI SALADS TO GO:  Don't forget to take some home for later!!
 Main Salads (Chicken Salad, Cajun Chicken Salad, Tuna Salad, & Pimento Cheese)
8 oz. – $5 16 oz. – $9 32 oz. – $16
Side Deli Salads (Roasted Veggie Pasta, Tomato Basil Pasta, Old-fashioned Pasta, Cheese Tortellini, Spinach-Artichoke Dip, Crack Corn Dip, Broccoli/Cauliflower/Tomato, Potato Salad, Broccoli Slaw, Asian Slaw,   Shrimp Pasta,  Greek  Pea Salad, Black Bean Salad,  Cornbread Salad, Tomatoes & Cucumbers)  Periodically, we will feature an additional deli salad for the week.
8 oz. – $4 16 oz. – $7 32 oz. – $13
Natalie's offers a full catering menu for all of your entertaining needs!  Let us plan something special for your next event, large or small….we can feed you all!